Welcome to Quarry Oaks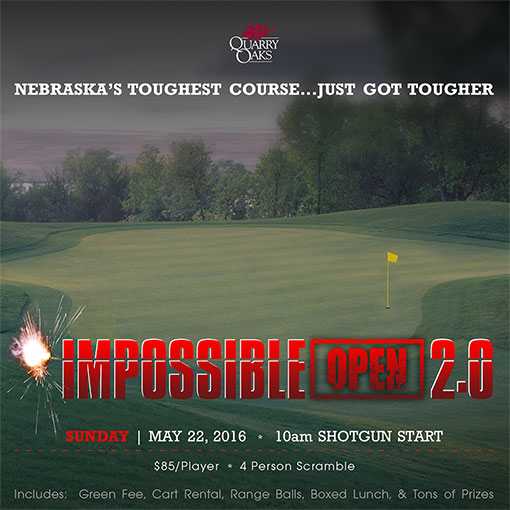 Nebraska's Toughest Course...Just Got Tougher
This Second Annual Event will again be played from over 7,000 yards. You will see the toughest possible, yet fair, pin locations on every hole. Combine that with thick "U.S. Open" rough, slick greens and you've got yourself one monster of a golf course. Bring your "A" game, a few extra balls and see if you have what it takes to be crowned Quarry Oak's 2016 Impossible Open Champions!
Quarry Oaks is an 18-hole championship golf course and is unrivaled in the Midwest in concept and design. Quarry Oaks Golf course is nestled in the beautiful Platte River Valley and is perfectly located just off of Interstate 80, midway between Lincoln and Omaha.
"Quarry Oaks, a place where golf and the environment exist as one and moments are waiting to be captured."